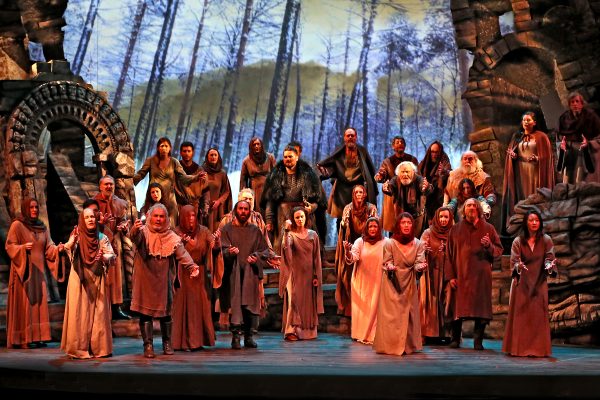 It has been a year since pretty much everything shut down in the USA due to the COVID-19 pandemic. For those of us who are performers, whether professional or amateur, our memories go back to that last performance or last rehearsal before it all went away.
I have never been an athletic type and tend to be physically risk-averse. It is quite the cosmic irony that my favorite hobby, singing in opera choruses, turns out to be one of the most daredevil things you can do in a pandemic. I have seen studies that say, "oh, singing is not that dangerous," but come on! I've been on the opera stage a lot, and seen lots of spit fly for a heck of a lot farther than six feet.
When it became clear how dangerous this pandemic was, we knew that opera was going to be one of the last things coming back. Some companies like Michigan Opera Theatre have done creative things with drive-in productions. Others like Opera San José have done smaller-scale video productions.
I appreciate this creativity, but I must say that I am happy with West Bay Opera's approach. The spontaneity and communion between performers and audience in live performance is so essential to what we do. Drive-ins and video don't get to the heart of the live performance. Video in particular is another form of TV. There is nothing wrong with TV, especially in this golden age of creative television production, but it's a different experience than live performance. There is nothing wrong with a company like West Bay Opera saying that we will wait things out until we can do the live performances that are the heart of our art form.
For now, that leaves us with our memories. Those of us performing with West Bay Opera have had the great good fortune that our last performances have likely been in a wonderful Verdi production. The pandemic struck as we were about to complete our Verdi pentathlon: five straight Verdi operas over two seasons. The 2018-2019 season ended with I due Foscari and Falstaff, and the all-Verdi 2019-2020 season was Nabucco, Macbeth, and La traviata.
I was accepted into the chorus of all five operas and got to sing in four of them before the pandemic scuttled La traviata, at least for time being. I want to focus now on our last production, Macbeth from February 2020, which was perhaps the most amazing of the set.
When our general director and conductor, José Luis Moscovich, told us that we were going to include the complete ballet in Macbeth, I thought he was crazy. Hardly anybody does the ballet these days, especially a small, low-budget regional opera company without a dedicated ballet or dance group!
I had severely underestimated the creativity of José Luis, our director Ragnar Conde, and our choreographer Kara Davis. They came up with a scheme where we had three dancers totally integrated with the drama. They were the dancing witches, complementing our women's chorus of witches. When the women's chorus were other characters, the dancing witches could still be present moving the plot along. It is one of the witches who places the dagger in Macbeth's hand before he kills Duncan. In this video from the Act II Finale, where Macbeth sees Banquo's ghost, you can see the witches – Pauline Mosley, Alejandra Preciado, and Leyna Swoboda – come in at the end of the act to feast off of the abandoned banquet table.
This scene also lets you hear the splendor of the West Bay Opera Chorus. It has been such a joy to be in the chorus as it has improved by leaps and bounds over the years. Bruce Olstad has been our chorus director for the past several seasons and our sound is a great tribute to his wonderful leadership. His cheerful relentlessness in search of artistic excellence makes rehearsals so much fun, as we keep improving with each production.
Macbeth also gave me my first solo singing role at West Bay Opera! I got to sing the role of the Herald in Act III. It's two words, four syllables, all eighth notes on one pitch – "La regina!" The difficulty is in the tricky entrance right after a tempo change. Fortunately my MIT Concert Band days have given me plenty of experience with tricky entrances! It was great fun to briefly be the person mediating between Krassen Karagiozov's Macbeth and Christina Major's Lady Macbeth.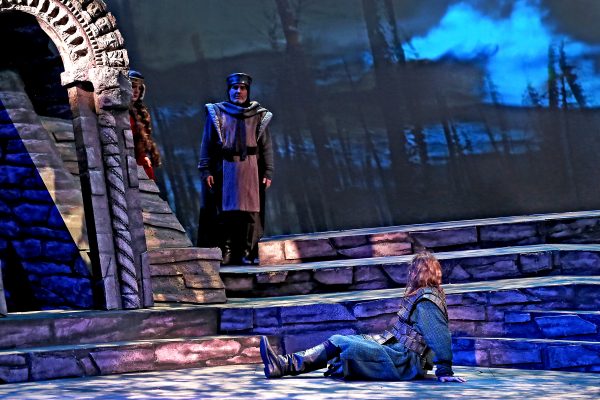 I can't possibly write about Macbeth without mentioning the witches' chorus and the remarkable work of our costumer designer, Callie Floor. Her faceless masks for the witches were extremely creepy, yet still practical for the singers. They were set off well by Peter Crompton's set design and Steve Mannshardt's lighting design. Here they are in the opening Act I chorus: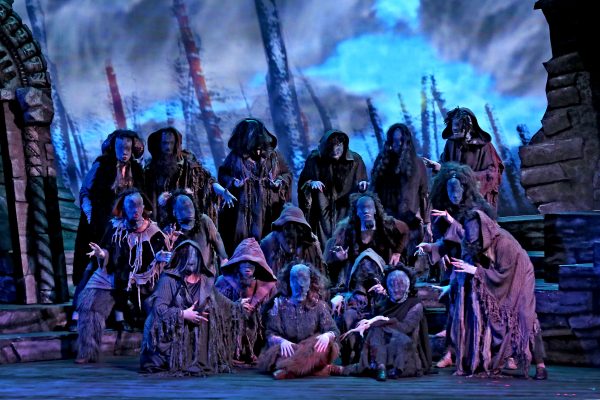 This production played to sold out houses and received rave reviews. If you ever have to go without performances for a year or more, I highly recommend having your last performances be as rewarding as our Macbeth production. Joshua Kosman's review in the San Francisco Chronicle was particularly good, loving the whole cast and crew, but especially Christina Major's Lady Macbeth.
While we have been locked down I have kept on singing in short daily practice sessions, keeping my voice ready for the next time it is safe to sing in a chorus and appear on stage. My two constant aria companions have been Macduff's Act IV aria, sung magnificently in our production by Dane Suarez, and the Chant d'Iopas from Berlioz's Les Troyens. The despair of Macduff's aria has been easier to connect with emotionally during the pandemic. Last night, after listening to President Biden's speech detailing our vaccination progress, I was finally able to connect with the feeling of renewal and rebirth in the Berlioz. At last I realized why I have kept these two arias close to me during the past year.