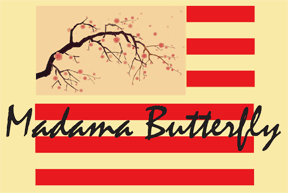 There is a reason why some operas are so beloved and so often performed. While there are many great operas in the world, in and out of the repertoire, some works go beyond with a transcendent synthesis of music and drama.
Puccini's Madama Butterfly is one of those operas. But it is trickier than some of the other classics. The first time I saw a performance of Butterfly, the singing was excellent, but the acting was wooden and the direction perfunctory. Some operas can survive that treatment and still work their wonders, but not this one. The opera has a lot of emotional and musical territory to cover, but the events of the plot don't do all the work. Without real commitment and both singing and acting skill, the show can flounder.
If you want to see and hear what great opera is about – whether you are looking for a conversion experience to opera, or are already a maven – come see West Bay Opera's production of Madama Butterfly. JoAnn and I are in the chorus – I'm the "old man" – but we're only on stage for one scene. This opera lives and dies by its title character, and Baltimore's Kenneithia Mitchell really delivers here. The rest of the cast are also wonderful actor/singers, including Mathew Edwardsen as a multi-layered Pinkerton, Kindra Scharich as Suzuki, and David Cox as Sharpless.
The production is led by a veritable West Bay Opera "dream team" including director David Ostwald and conductor Sara Jobin. Performances are May 22, 24, 30, and 31 at the Lucie Stern Theatre in Palo Alto. Opera is really exciting to see in a small house like this one. At 400 seats, it's almost an order of magnitude smaller than a place like the San Francisco Opera House. The difference is like seeing a rock group in a club vs. an arena show – the intimacy of the venue really can pay off.
The Friday and Saturday performances are at 8:00 pm and the Sunday performances are at 2:00 pm. Tickets are $20 to $55 and are available from the West Bay box office or online.
Madama Butterly even has a MusicXML connection. Puccini used several Japanese songs in the opera. One of them is Echigo-Jishi, which is the song we use on our MusicXML samples page so developers can test how their MusicXML programs handle Asian language text and lyrics. You can hear it in the orchestra at the beginning of the entrance of the geishas in Act I.
And for something completely different, next week JoAnn and I are performing Mozart's Coronation Mass and Haydn's Te Deum with the Stanford Symphonic Chorus. Moving back and forth between this classical program and Puccini's lush romanticism has been a lot of fun! The concert is Friday, May 15 at Stanford's Memorial Church, and tickets are available online from the Stanford Ticket Office.