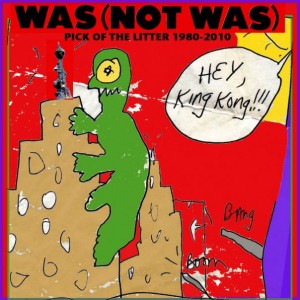 The amazing, beyond-category band Was (Not Was) has a terrific new compilation out that covers their entire 30-year recording career: from the first single "Wheel Me Out" to their latest album Boo!
How can one CD cover a 30 year career? Well, 18 of those 30 years were on hiatus while Don and David Was went their separate ways, with Don Was becoming a very successful record producer. Another 5 years were lost to record company disputes between their second and third albums. This still leaves us with 5 albums and several singles. Pick of the Litter covers this repertoire very nicely. The selected songs are very close to the sets that I've heard the band play the past few years in San Francisco and Anaheim. There are some nice crossfades between songs that make things flow together even better.
Part of what speaks to me about the band's music is its inspired eclecticism. It's not just that they are hometown heroes, though that's part of it. Don and David Was were two white kids from the Detroit suburb of Oak Park who got two outstanding black singers, Sweet Pea Atkinson and Sir Harry Bowens, to sing their out-there lyrics and music. They liked jazz so they hired Detroit jazz trumpet legend Marcus Belgrave, who played on their first album and the earlier singles. They would add all sorts of influences – jazz, rock, spoken word, noise, a State of the Union address by President Ronald Reagan – into their basic dance orientation. Detroit had so much going on in popular music in the 60s and 70s, from the Motown hits to the rock music of Bob Seger, the MC5, and many others. Mixing it all together seems like a natural thing to do.
Sometimes the eclecticism veered a little "out of control" for their own good, as in the wild series of guest vocalists that started with the Born to Laugh at Tornadoes album. Pick of the Litter does a very sensible thing by saving the highlights of these guest vocal appearances for the end of the CD, after doing the 15 songs sung by the band in chronological order. A great TV rehearsal take of "Hello Operator" from 1989 comes next, then the 3 collaborations. Doing it this way, there's only one choice to close the album: "Zaz Turned Blue," sung by Mel Torme and backed by the New York group String Fever, founded by violinist Marin Alsop. This was before the Maestra became music director of the Cabrillo Festival and the Baltimore Symphony!
Another familiar name on the credits is Debra Dobkin, who played percussionist in the band during its 1989-1990 peak of popularity. Lately she's been performing with Richard Thompson in his 1000 Years of Popular Music band. Maybe Richard will include a Was (Not Was) song in a future version of the show?
If all you've heard from the band is their hit "Walk the Dinosaur", check out some of the other musical riches on offer. Pick of the Litter makes a great introduction to the world of Was (Not Was). The band plays great live, so catch them if they come to a town near you for one of their rare gigs!