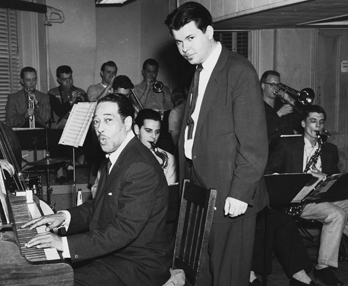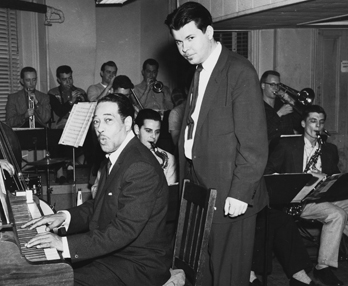 MIT will be hosting its 3rd annual Herb Pomeroy Memorial Concert this Saturday, May 8 at Kresge Auditorium at 8:00 pm. As with the first memorial concert two years ago, this one will feature both the Festival Jazz Ensemble an MIT Alumni Jazz Band. Many of the alumni played under Herb's direction when he led the FJE from 1963 to 1985. Fred Harris will conduct.
Herb performed with Duke Ellington – see the great picture of them together – and Duke's music was a huge influence throughout his life. He taught courses on Ellington's music at Berklee, and his big band had many Ellington charts in their book. The concert will include the Festival Jazz Ensemble playing several of the Ellington works most closely associated with Herb and his band. These include A Tone Parallel to Harlem and Star-Crossed Lovers, both of which I recall hearing the band play several times at the Scotch 'n Sirloin in the North End over the years.
Of course Herb was also associated with discovering, teaching, and nurturing new talent, and several of his former students will have works performed at this concert. Jamshied Sharifi was Herb's choice to take over the MIT FJE upon his retirement. His new work The Darkening will be premiered at the concert. The concert will also feature music by another former student of Herb's, Magali Souriau, and by Herb's longtime trombonist Phil Wilson.
As with the last concert featuring the alumni band, I will be attending this one in the audience, not on stage. I played in the FJE trumpet section for four years under Herb's direction, but switched from trumpet to voice a few years after leaving MIT. This was a tempting gig, so over the holidays I tried to see if I could get my chops back, but that was just not going to happen. Since I had mentioned the possibility of playing in the band, Fred included me on the e-mail with the two charts that band would be playing. I downloaded my 5th trumpet part to the first chart, which was 5 pages long. Page 1 sounded pretty good, but it was all gone by page 2. That's my trumpet playing these days: still a nice range and tone, but with an endurance of about two minutes.
If you're a jazz fan in the Boston area, come enjoy this special evening by a top collegiate jazz band. Tickets are $5 at the door – a great deal for such fine music. See you there!