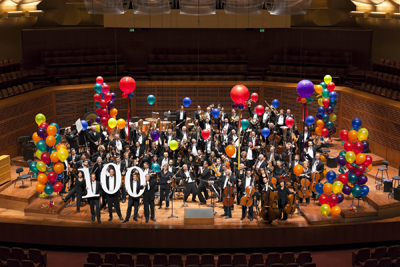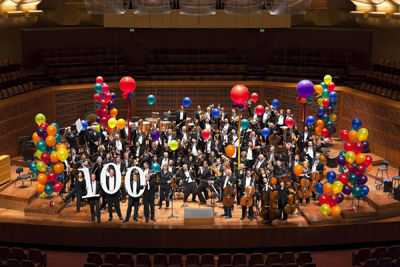 The centennial season of the San Francisco Symphony has begun! Orchestra fans in the Bay Area are excited about the great programming throughout the season, the wonderful soloists coming our way, and the ability to hear the other 6 of the USA's "Big 7" orchestras here in San Francisco in a single season.
What does the centennial season mean for the SFS Chorus? First, there are several of the most well-loved classics for chorus and orchestra in the repertoire, including the Verdi Requiem, Brahms' German Requiem, and Beethoven's Ninth Symphony. James Conlon will be conducting the Verdi, while MTT will conduct the Brahms and Beethoven.
Second, the chorus will premiere Mass Transmission for chorus, organ and electronics by Mason Bates during the American Mavericks concerts. Bates's music has been performed frequently both at the San Francisco Symphony and the Cabrillo Festival, and I've been a big fan of the works I've heard to date. This will be the first time I've performed any of his music and I'm really looking forward to it. I've been in many premieres over the years, as a trumpeter and a singer, but there's no doubt that this will be the highest-visibility premiere that I've ever performed in.
Third, there are several rarely done works where this might be the "once in a lifetime" chance to sing it. This category includes Debussy's Le martyre de Saint Sébastien and Schoenberg's A Survivor from Warsaw – the latter serving as a curtain raiser for the Beethoven 9th. It also includes the MTT-curated semi-staged extravaganza Barbary Coast and Beyond, featuring music from the Gold Rush through the Symphony's founding in 1911. I have no idea what we'll be singing in that concert, but trust in these MTT programs is usually amply rewarded.
That covers the works that I'll be singing in. As a tenor I can't sing the Mahler 3rd that the women of the chorus will perform this weekend, and my schedule didn't permit me to volunteer for Messiah or the holiday concerts.
So the SFS Centennial should provide a lot of great music for the chorus and the audience! I'll be blogging more about the different programs as they happen. Our first rehearsal for the Verdi is this Monday.