When you work on music notation software for a living and you sing in choruses, the two tend to intersect. I'm rehearsing for the San Francisco Symphony Chorus's performances of the Verdi Requiem, coming up next week. The Verdi Requiem turns out to be one of music notation's record holders. No other work in common Western music notation has more augmentation dots on a note than the 4 dots Verdi uses in setting "Salva me" in the Rex tremendae portion of the Sequence: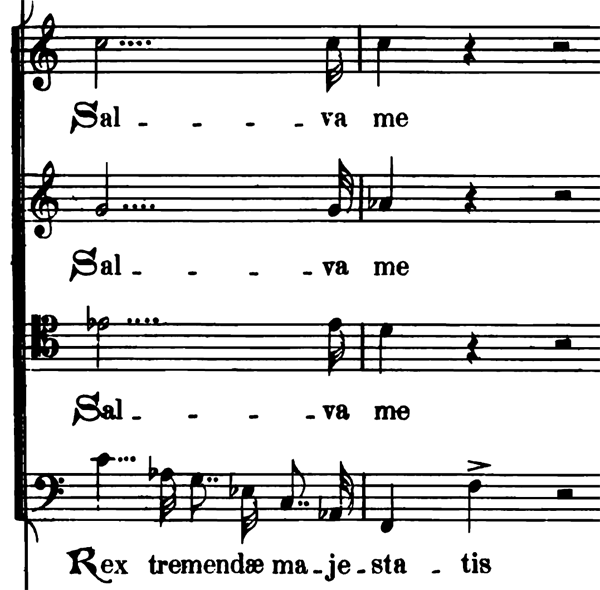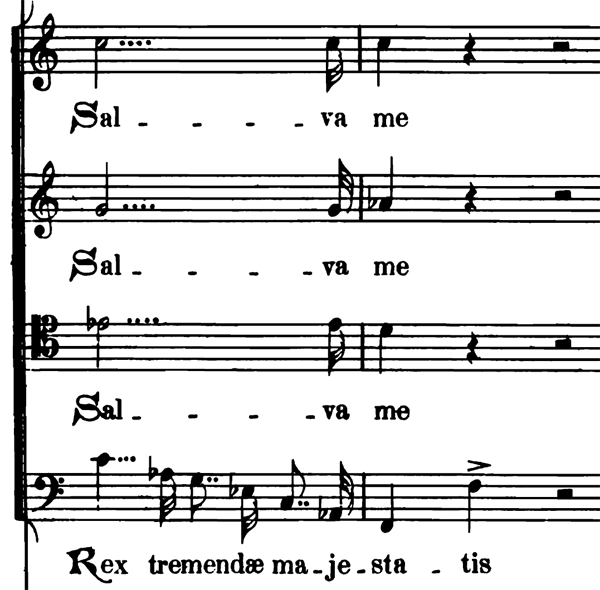 This is one of many cases of a stuttering rhythm in the Sequence, helping to convey a sense of fear and foreboding – in this case, the desperation in the plea to be saved. In this week's rehearsals we have worked on making sure these stuttering sections are still sung with ensemble, line, and emotion.
Don Byrd's wonderful Extremes of Conventional Music Notation site notes that several other works share this record, including Liszt's Piano Concerto No. 2, Franck's Prelude, Chorale and Fugue, Hindemith's Mathis der Maler Symphony, and Bartók's Music for Strings, Percussion, and Celesta. Like the Verdi, all of these works have the four dots on a half note.
This should be a fabulous set of concerts. James Conlon is conducting, and the soloists are soprano Sondra Radvanovsky, mezzo Dolora Zajick, tenor Frank Lopardo, and bass Ain Anger. I sang the Verdi Requiem with Masterworks Chorale in San Mateo about 15 years ago and Ms. Radvanovsky was our soprano soloist then, before her fame. I've never heard the Libera me sung any better!
The concerts are Wednesday, October 19 through Saturday, October 22 at Davies Symphony Hall. All concerts start at 8:00 pm. Tickets are available online and at the box office. When I checked yesterday there were still good seats available for all performances.