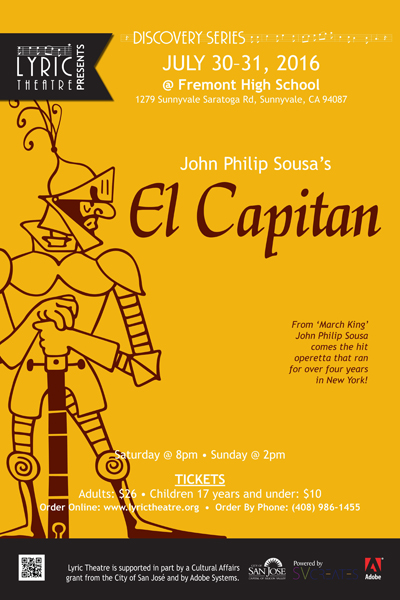 My next performances will be very special events. Lyric Theatre of San José is presenting the first performances of John Philip Sousa's El Capitan in California since the original production's nationwide tour 120 years ago. I will be playing the role of Señor Amabile Pozzo, Chamberlain of Peru.
This semi-staged concert production is directed by Paul Zawilski and conducted by Jeff Yaeger, with vocal direction by Neil Midkiff. Performances will be on Saturday, July 30 at 8:00 pm and Sunday, July 31 at 2:00 pm at Fremont High School's Shannon Theatre in Sunnyvale, California. Tickets are only $26 for adults, $10 for children, and available online or by phone.
Wait a minute, you say. Wasn't Sousa just a composer of marches? Really good marches, yes, but can an expert at 3-minute marches who railed against padding of musical material actually compose a really good 2-hour operetta? And are the tunes in the El Capitan march actually in the operetta?
The answer is yes, Sousa could compose a really good operetta. This was by far his biggest stage hit, running for 4 years in a row in New York and on national tours. The famous El Capitan march contains some of the best tunes from the show, of course, but there's lots more top-notch music where that came from.
What about the book, you ask? Some of these late 19th-century shows have very musty books full of topical references that you need a bunch of footnotes to understand. Or they have a very sentimental quality that isn't in tune with contemporary tastes. Or both.
I actually had no idea how good a show El Capitan was when I agreed to do it. I just knew it was a rare chance to perform a Sousa show, and given how much Sousa was a part of my youth as a band kid it was an opportunity I couldn't refuse. I was delighted to see how contemporary and funny the show actually is.
The basic plot is that Don Errico Medigua, career politician, has been appointed to be the new Viceroy of Peru by King Philip of Spain. However, this new appointment means that the prior Viceroy, Don Luiz Cazarro, is being pushed out of office prematurely. Cazarro is understandably unhappy about this and leads an insurrection to force Don Medigua out of office. He has hired the noted mercenary El Capitan to lead his forces.
Don Medigua is well aware of this when he ships off to Peru. When he finds that El Capitan died in a brawl on the same ship, he decides to assume El Capitan's identity and become an insurgent against himself. In the meantime he manipulates El Capitan's reputation in Peru into something enormous. Medigua figures that if the requested Spanish reinforcements arrive in time, he will return as Viceroy. If they don't, and the insurgents win, he will be on the right side there as well. Of course once he assumes the role of El Capitan, some people figure out pretty quickly that he's more of a politician than a warrior.
So yes, politicians were manipulating the media for their own ends way before contemporary times and movies like Wag the Dog. It is a very silly and funny plot setup that leads to a lot of comedy.
This is a show that lives and dies on who is cast as Don Medigua / El Capitan. You need an excellent, charismatic comic actor who is also a fine singer. We are fortunate to have Google's own Dan Galpin as the star of our show. I enjoyed performing with Dan in Lyric Theatre's Utopia, Limited, but El Capitan is a far greater showcase for his prodigious talents.
My role is Pozzo, Don Medigua's loyal chamberlain. Pozzo is a comic tenor, and the first role I've had that combines dialog and solo singing – in this case, much more dialog than singing. It was created in New York by another short actor, Alfred Klein, brother of Charles Klein who wrote the El Capitan book. I am grateful to Paul, Jeff, and Neil for giving me this opportunity. Pozzo has some very funny lines which I hope the audience will enjoy as much as the cast has in rehearsals.
So don't miss your chance to see and hear a whole different side of John Philip Sousa! We will have a full orchestra, a cast full of experienced and delightful Lyric Theatre performers, and fine artistic leadership. The last weekend in July will be Sousa time in Sunnyvale. In times like these we need comic opera more than ever.