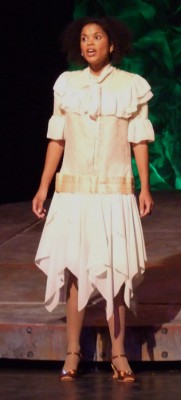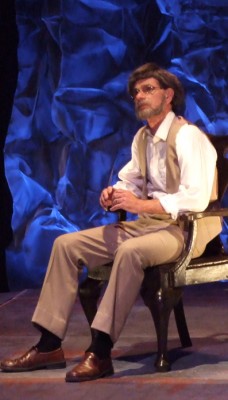 It's been a while since posting because things have been very busy with both MusicXML work and performances. I can't write about the MusicXML work at this point, but the performances went great.
Dr. Faustus Lights the Lights got a fine reception at City College of San Francisco. David Ahlstrom's widow Doris Ahlstrom attended most of the performances and sent the cast a great thank you note afterwards. Many of Mr. Ahlstrom's colleagues attended and delighted in finally seeing this opera up in a fully staged and orchestrated production.
These photos were taken at the dress rehearsal. From left to right above are Marguerite (Sarita Cannon), Doctor Faustus (John Warner), and Mephistopheles (me). Below is a scene from the Finale, which adds Man From Over the Seas (Eric Coyne), Old Woman With a Sickle (Elizabeth Finkler), Boy (Kelly Ann Lawson), Dog (Denee Deckert), and members of the ensemble behind the scrims:

JoAnn's performances of Carmen at West Bay Opera also went very well, with the entire run selling out. When the curtain opened, there was JoAnn center stage as a beggar lady, sitting and talking to the bugs on the ground. This was another typically excellent West Bay performance, full of passion and great singing in a nice small theater where you are not so physically distanced from the happenings on stage.
Last weekend, the Stanford Symphonic Chorus and Peninsula Symphony contributed to the Bernstein 90th birthday festivities with a performance of Chichester Psalms. The program also included the premiere of Brian Holmes's Amherst Requiem, which mixes Emily Dickinson texts sung by the soprano soloist with the Latin text sung by the adult and children's choruses. Heidi Melton was a fabulous soloist and the Vivace Youth Chorus of San Jose did a fine job too.
The highlight of the month as an audience member was the San Francisco Symphony's performance of Mahler's Symphony No. 8 last Saturday. The San Francisco Symphony has established a wonderful level of excellence under Michael Tilson Thomas's direction, but this just may have been their best performance yet. I've heard the 8th several times before, but never like this. The singing of the chorus under Ragnar Bohlin has moved to a whole new level, while the eight soloists were at a uniform level of excellence that I have never heard in this work before, either live or on CD. This was recorded for the final release of the SFS Mahler symphony cycle on hybrid SACD. If the magic of these performances makes it onto disc, this could be a Mahler 8 recording for the ages.