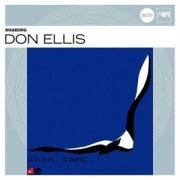 Finally! My favorite studio album from Don Ellis,
Soaring, is now available on CD from Amazon and other fine retailers. From hot charts like "Whiplash" and "Invincible" to beautiful ballads like "Nicole" and "Image of Maria", this album is the vital studio link between Tears of Joy and Live at Montreux. Composition, arranging, and playing are all first-rate on this album. I just ordered my copies (including gifts) so I have not heard how this CD sounds, but the Verve group usually does a great job on their reissues.
This leaves just one Don Ellis LP, Haiku, that has never made it to CD. The release of Haiku on CD is likely dependent on Soaring selling well, as both albums were released on MPS and are now controlled by Universal. If you're a Don Ellis fan or know a Don Ellis fan, please help make this a happy holiday season with one of his finest recordings ever.
Once again, thanks go to Nick DiScala for his amazing work in bringing Ellis's music back to life for the digital age. Nick has worked with the Ellis estate for years and contributed the liner notes for this release. For the longest time, only one of Don's big band albums was available on CD, together with some early small group albums. Now all the big band albums have made it to CD, and we just have the Don with strings album left to go. What an amazing turnaround! Nick is also one of the masterminds behind the Don Ellis Critical Editions, helping to make more of Don's music available to performers in the most authoritative versions possible.