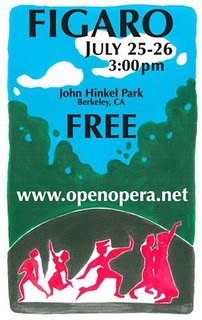 If you are in the East Bay this weekend, here's the best music deal of the year. Come to see Open Opera's free performances of Mozart's masterpiece Le nozze di Figaro at the John Hinkel Park amphitheater in Berkeley. Performances are Saturday, July 25 and Sunday, July 26 and 3:00 pm.
The cast is wonderful, including Julian Arsenault as Figaro, Aimée Puentes as Susanna, Nicolai Janitsky as Count Almaviva, Adrien Roberts as the Countess, and Elizabeth Baker as Cherubino. The production is directed by Olivia Stapp and conducted by Jonathan Khuner. I will be singing and dancing in the chorus. And yes, there will be an orchestra and supertitles.
Come enjoy Mozart's funny, poignant, and beautiful masterwork in a lovely park setting. The amphitheater is right off the end of Somerset Place in Berkeley. And did I mention it was free?