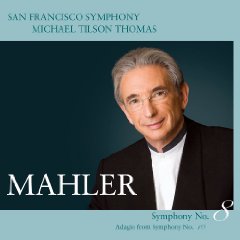 After attending one of the San Francisco Symphony's performances of the Mahler 8 last year, I posted: "If the magic of these performances makes it onto disc, this could be a Mahler 8 recording for the ages."
Well, it did and it is. If you love Mahler you really want to get this recording. A piece as immense and physical as the Mahler 8 is particularly elusive to record. One problem is that if you get the impact of the extremes, you tend to flatten the details in the middle, or vice versa. I have heard several superb performances of large works that were being recorded for CD where somehow the recording lost an essential part of the performance magic. This disc meets the Mahler 8 challenge brilliantly.
The soloists are a dream team – the strongest group I have heard in this piece, sounding great both separately and together. They are topped off by the luxury casting of Laura Claycomb in the 2-line role of Mater gloriosa, way up in the stage right balcony. The chorus and orchestra sound exquisite. Part II in particular is amazing. In other performances it can be discursive and lose my interest at times. In this performance everything maintains a core energy and direction, and the time just flies by despite its length. This aspect of the performance really struck me both in the concert hall and in listening to the CD at home. Michael Tilson Thomas is extraordinary here.
The Adagio from Mahler's 10th that starts the recording is another amazing performance. I wish I had been at one of the concerts where they recorded that, but you can't hear them all.
Full disclosure: I have joined the Symphony Chorus for the 2009-2010 season, including a Mahler 2 with two of the same soloists. But last season I was just an audience member with some friends in the chorus.