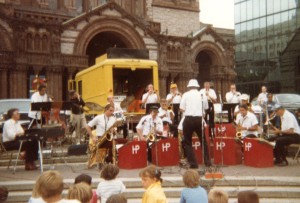 Here is another insightful excerpt from Herb Pomeroy's interviews with Forrest Larson for the Music at MIT Oral History Project. This came at the end of the last of the three interviews, conducted at the MIT Lewis Music Library on April 26, 2000.
Besides being a great jazz educator at Berklee and MIT, Herb Pomeroy was a trumpeter and the leader of an excellent professional big band. One of his early albums, Band in Boston, has finally been released on CD by Fresh Sound. For his great 70s and 80s big band, you had to hear them live at places like the Scotch 'N Sirloin in the North End. That band only released one album – the magnificent Pramlatta's Hips on Shiah Records – which has never been reissued on CD.
Maybe this had to do with Herb's opinions about recorded music. He was years ahead of his time in anticipating the increasing value that listeners would put on live vs. recorded music:
I've never heard a recording – never's an awful strong word but I never can recall it – that was as glorious as a live performance: a good live performance. I don't believe in recorded music. I don't believe in the act of recording music. I believe that music is so precious that it should only be heard by the musicians who've given their life to play it, and the listeners that would drive 200 miles through snow to listen to it. Like it used to be maybe pre-radio days, early radio days, where people would drive all over the place to hear a symphony concert.

Oh, there was a marvelous article in the Atlantic Monthly just recently. Ah, did he hit the nail on the head for me in a number of areas. We've become so comfortable. You sit at home and listen to a CD with the fire going and your drink beside you. That's not what music, as far as the listener and the player, the partakers of the whole act…

But I know, I mean I would have kids at Berklee who would study with me for two years, and then the last week of the last class, I would lay this on them, you know, and they'd say "Wow, are you weird!" Because they grew up in this period – and I've grown up, I mean, recordings were being made long before I was born in 1930.

But the live performance – the spontaneity, the reaction to each other, the act of being human beings with each other. I think the social act of being a human being is the most important thing, to me, why we're on this earth – to get along with each other, to react to each other, to love each other. And I don't see that a part of music when it's a track in your head.

The love I feel next to my wife and my children and grandchildren, the next love I feel is the musician I get on the bandstand with to make music. That's a very embracing thing that happens. And it doesn't happen in a recording studio. Red light goes on, and 20 to 30 percent of your spontaneous creativity becomes tense. I've gotta be safe with this lick – here's a great lick, I'm gonna, wooh what a lick – no I'm not going to play it – because I might make a mistake.

I'm really fortunate that I made my living and put my Berklee lump sum in a retirement thing, and my wife and I can be comfortable. Because if I lived with these principles, I couldn't make a living today.
As with other oral history posts on this blog, I transcribed this interview excerpt. Any errors are mine, not the MIT Lewis Music Library's. The library is working on officially transcribing the interviews. Hopefully the first transcripts will be available later this year.