Although I haven't been posting here lately, 2017 has been a busy year for music – both as a performer and audience member. Here are some of my musical highlights from the past year as we head into 2018.
February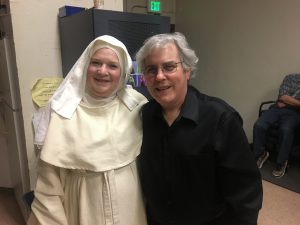 My first performances of 2017 were in West Bay Opera's production of Puccini's Il trittico. The men's chorus sings offstage at the start of Il tabarro and at the end of Suor Angelica, and not at all in Gianni Schicchi. Even though we had very little music to sing, it was fantastic to be part of this production and learn how these operas work. Here I am backstage with my wife JoAnn Close who sang Lay Sister 2 as part of the Suor Angelica chorus.
February also marked the San Francisco premiere of John Adams' The Gospel According to the Other Mary, performed by the San Francisco Symphony and Chorus under the direction of Grant Gershon. Kelley O'Connor, Tamara Mumford, and Jay Hunter Morris headed a stellar cast in this provocative and moving work.
March
Jennifer Kimball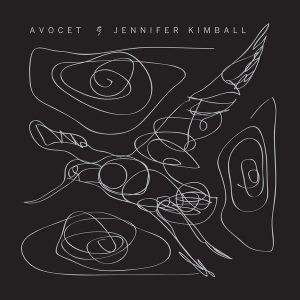 released her fabulous album Avocet on March 3. Jennifer was one half of The Story, but in those days she sang without writing any of the songs. Avocet is her third full-length solo singer/songwriter album, her first in over 10 years, and probably her best yet. Will Layman's Pop Matters review describes some of the background and musical choices that led to the fresh sound and performances.
May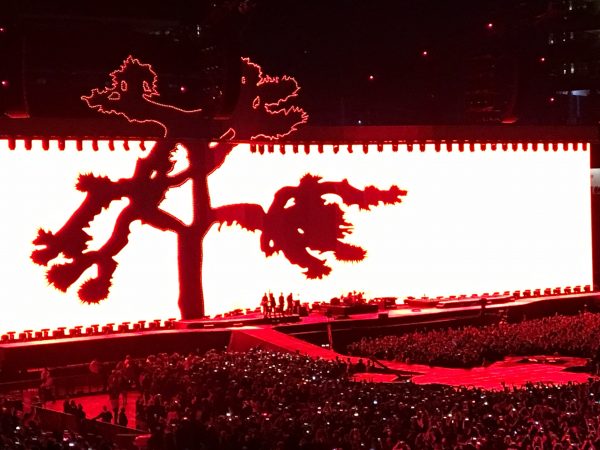 I finally got to hear U2 in concert! The 30th Anniversary tour for The Joshua Tree came to Levi's Stadium in Santa Clara. It was everything that all my friends who had attended U2 concerts told me it would be; a real rock and roll revival meeting. Mumford & Sons opened, so I got to hear another of my favorite groups in concert for the first time.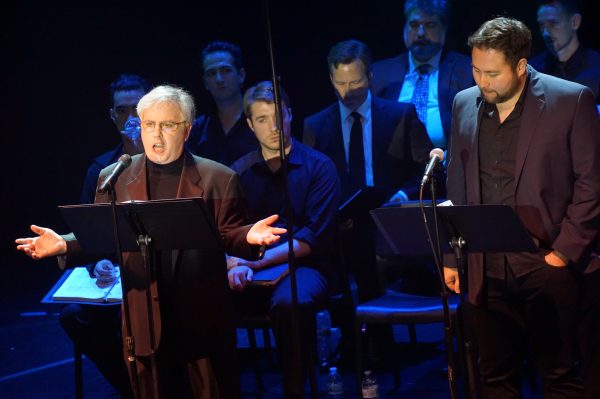 May also marked my debut with South Bay Musical Theatre in a concert production of Chess. The cast split up all the songs, with everyone singing chorus in songs where we were not soloists. Our performance was based on the licensed London version, but we secured the rights to interpolate some songs from the Broadway version. Those additions led to another debut for me – singing two solos in Hungarian! The photo above shows my other solo, singing some of Walter's lines. Thanks to László Sigrai for helping me through the Hungarian diction while we were both attending Musikmesse, and to Walter Mayes, Asa Stern, and Anita Hsiung Carey for casting me in the show.
June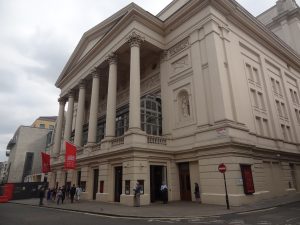 June saw us visit London where we saw several great performances: the Ensemble Intercontemporain at Wigmore Hall, L'elisir d'amore at the Royal Opera House, and The Book of Mormon at the Prince of Wales Theatre.
L'elisir was the most memorable. I love this work, having been in a magical production at West Bay a few seasons ago. The continued popularity of this Royal Opera House production is no surprise as it is wonderfully well staged. Ivan Magri gave an especially courageous performance as Nemorino. He appeared to have lost a battle with a hay bale at the end of Act I and pull some muscles near his rib cage, yet he continued to sing and act beautifully throughout Act II. The other principals and chorus were alert to the staging changes needed to accommodate a Nemorino who couldn't stand up for very long, or climb stairs up to a platform without a helping hand.
July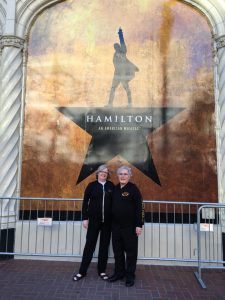 July brought the San Francisco touring production of Hamilton. I was fortunate enough to see this on Broadway with the original cast. The San Francisco performance was just as great, with different voices and interpretations that brought out additional facets of the piece.
I don't think I've raved about Hamilton on this blog, so let me do that now. This is one of the greatest pieces of theater – greatest works of art – that I have ever seen and heard. It is a spectacularly creative work, the first in a long time to incorporate contemporary popular music into a Broadway idiom in a show intended for all ages. Lin-Manuel Miranda brilliantly uses rap to serve the same function as recitative in opera and dialogue or melodrama in other musical theater work: as a way to communicate larger amounts of verbal information in a smaller amount of time than you can do with singing. The score is not just hip-hop music; it's a brilliant combination of all sorts of R&B, Broadway, pop, and hip-hop styles. To do this in the service of a book that treats American history in a serious and highly entertaining way is simply stunning. Anyone who cares about opera or musical theater in any of its forms should see Hamilton.
August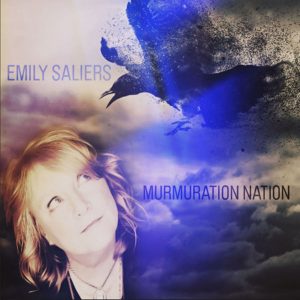 August marked the release of Emily Saliers' album Murmuration Nation. Of the new albums I've heard this year, this is the one that best captures American life in 2017, especially in songs like "Fly" and "OK Corral." Some of the songs have a production similar to the Indigo Girls albums, especially in the latter half of the album, while others go in new and delightful directions. This is a wonderful debut for Ms. Saliers as a solo artist.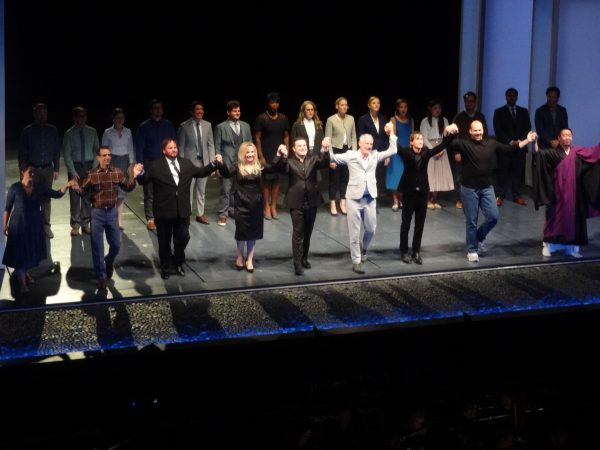 August also took us to Santa Fe Opera for three productions: Rimsky-Korsakov's The Golden Cockerel, Mason Bates' The (R)evolution of Steve Jobs, and Handel's Alcina. All three were excellent performances. Alcina in particular was extraordinarily well-sung by a cast headed by Elza van den Heever in the title role.
It was the premiere production of The (R)evolution of Steve Jobs that was the most newsworthy, of course. It was very well received – the photo above comes from the bows. While I also enjoyed it, it also felt like a terribly missed opportunity. I am a huge fan of Mason Bates' music and he seemed like the ideal composer to tackle the subject matter. I enjoyed his music but found two main problems with the work – its length and libretto.
The (R)evolution of Steve Jobs lasts only 90 minutes, which is an unfortunate length for an opera unless the composer's name is Richard Strauss. It is too short for a full-length opera and too long to be paired with another one-act. Yes, it is difficult to imagine an opera like Salome being any longer or shorter than it is. This opera though seems rushed, and that contributes to the problems in the libretto. I think those could be resolved without a whole lot of extra length, keeping well within 2 hours.
My main concern is the libretto by Mark Campbell. In The (R)evolution of Steve Jobs, the only reason to care about the title character is what we know from real life. Coming into the theater, we already know how Jobs changed our world: through a series of beautiful computing devices that have profoundly affected and enriched so many lives.
None of this is shown in this opera. The closest we get is the iPhone product launch, but that scene's celebratory nature is undercut in many ways. The chorus subverts the launch with critical questions (which is true to life – the iPhone initially had many naysayers). The graphics accompanying the scene are not real iPhone graphics, but something else much uglier than anything that Steve Jobs would have ever allowed on a stage in 2007. A little "wrong, all wrong" might have made this better. Later on, the Kobun character ridicules the product launches, even though they are Steve Jobs' greatest works of performance art, and the way he introduced so many life-changing inventions to the world.
The Steve Jobs shown in the opera is pretty much reduced to being a jerk. Everyone I know who worked for or with Steve Jobs confirms that he was extremely demanding and could indeed be a real jerk. But he was demanding in relentless pursuit of a humanistic vision of technology that transformed the world.
When this opera shows Steve being demanding in the workplace, is it during development of the Mac? The iPod? iTunes? The iPhone? The iPad? Any of Steve Jobs' great successes that changed our lives? No – it's during development of the Lisa! The Lisa is interesting from a historical perspective (we had one for competitive evaluation at our DEC usability lab) but it was a commercial flop and never transformed the world. With so many hit products, why show the hero of the opera being a jerk in the pursuit of a failed product? Is the librettist scared to death of ever showing the title character in a favorable light?
The reason is likely due to the plot line with Chrisann Brennan and his disowning their daughter Lisa. If the opera were longer than 90 minutes, perhaps both the technology and Lisa aspects could have been covered in separate scenes, rather than trying to have one scene do double duty and failing. With only 90 minutes available, the libretto discards the humanistic technology visionary and leaves us with the unlikeable jerk.
Fortunately Mr. Campbell appears to have much more sympathy for Laurene Powell Jobs. She has beautiful words and music to sing and was given an absolute dream performance by Sasha Cooke. Laurene's "Humans are messy" aria just ripped my heart out. Even with all the missed opportunity, this opera currently packs an emotional punch which resonates well with audiences.
Soon afterwards we come to the gravely disappointing final scene. The opera ends with the character of Laurene hectoring the audience not to look at their phones "after this is over" but that "Version 2.0" of Steve Jobs would want you instead to "Look up, look out, look around". This rings entirely false to both the real-life people and to the characters of Laurene and Steve created in the opera. The program book tells us this was based on a request from Charles MacKay, general director of Santa Fe Opera. Mr. MacKay has done a lot of great things at Santa Fe Opera, but sabotaging the finale of this opera will not be remembered as his finest hour.
Mark Campbell's cynicism about technology in general and Steve Jobs in particular is a real problem for the librettist of an opera about Steve Jobs. This isn't just my perception. Mr. Campbell himself admits in the program notes that Mason Bates "often balanced my more cynical perception of the story with his more emotional view and urge me to find more humanity in the roles." Unfortunately Mr. Bates' entreaties do not seem to have succeeded, especially in conveying in words the emotion behind working in technology.
My disappointment is so great because this opera seems so antithetical to what Mason Bates has composed in the past. Mr. Bates has been our leading composer of how technology affects us as people, a deeply important topic for artists and composers to address in the early 21st century. Sometimes he emphasizes the positive, as in Mass Transmission. Sometimes he portrays both the good and the bad, as in Alternative Energy. What a shock to see him composing an opera to a libretto that so completely misses the mark as to the human value of the technology being created, and of the person who guided it to fruition in an unprecedented series of technological, commercial, and cultural successes.
In December I found that I really enjoyed Girls of the Golden West while many critics disliked it. I am trying not to fall into the trap of critiquing the opera the creators chose to write, versus how the opera succeeds or fails on its own terms. Mr. Campbell says he was trying to "neither deify nor demonize Steve Jobs." So I think it's fair to point out that I believe he missed the mark in that regard. The opera is not full-on demonization, but it comes pretty close.
Opera is a deeply collaborative art. I dearly hope that Mason Bates will write more operas in the future, but that he will take more care in his choice of collaborators, especially librettists. Don't choose a librettist who is cynical about the subject of your story. Stand up to meddling general directors when a well-meaning suggestion will sabotage your work. Opera is hard enough when everyone is fully invested in the story; it is far harder when your collaborators are subverting it.
I have heard that Mr. Bates is revising the opera in preparation for later performance in San Francisco and elsewhere. I hope that libretto changes are part of this process. If I did not love Mason Bates' music so much, it would not be worth the effort to critique the opera in its current state. I am looking forward to the upcoming recording so that I can get more familiar with the many delights in his wonderful score.
October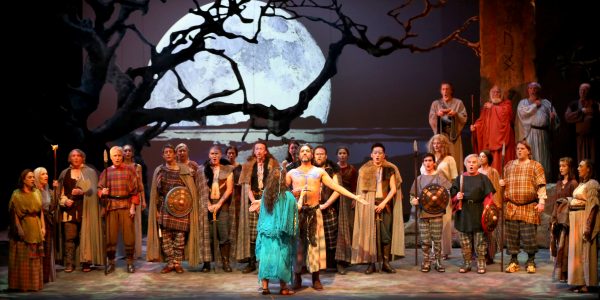 West Bay Opera performed Norma in October to start the company's 62nd season. After a season of operas with minimal or no chorus, this season's operas all feature the chorus prominently. Somehow I had never seen or heard Norma before. So it was a great delight to both sing and learn this opera, directed by Igor Vieira and conducted by José Luis Moscovich. Christina Major sang the title role superbly, including wondrous duets with Veronica Jensen's Adalgisa.
I have sung in many fine choruses at West Bay Opera over the years, but the Norma chorus was probably the best one yet for overall consistency across all singers and sections. It was noticed in John Orr's review for the Bay Area News Group: "The chorus is powerful and beautiful, creating a tsunami of gorgeous sound that burst out over the audience at the Lucie Stern Theatre." Thanks to Bruce Olstad for his fine direction of the Norma chorus, and all his work in directing and developing the West Bay Opera chorus over the years.
November
November included a trip to New Orleans for a reunion of first cousins on my Mom's side of the family. The buskers around the city were all wonderful performers, with the most consistent excellence I can recall hearing in any city. We were fortunate enough to hear the Ellis Marsalis Quintet perform at Snug Harbor with an amazing lineup: Nicholas Payton on trumpet, Adonis Rose on drums, Derek Douget on Sax, and Jason Stewart on bass.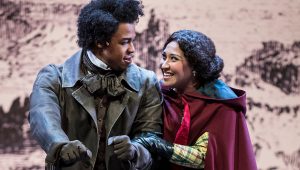 November also marked the premiere of John Adams' latest opera Girls of the Golden West at San Francisco Opera. This remarkable opera is the latest of the collaborations between composer John Adams and librettist/director Peter Sellars. Grant Gershon was back in San Francisco to conduct.
We have been watching Peter Sellars productions since his 1981 production of Handel's Orlando at the American Repertory Theatre in Cambridge, Massachusetts. He has directed many of my most profound opera and musical theater audience experiences. We've also seen many of John Adams operas and I've sung his oratorio El Niño in a semi-staged performance. I haven't enjoyed everything from these two brilliant artists, but the hits have far outweighed the misses. So I am always ready for something new when these two are involved.
Girls of the Golden West is in two acts. The first act shows the coming together of a California gold rush community in 1851. The second act shows that community coming apart. To me, the opera came across as a cri de coeur for building a better community in our state, our nation, and the world.
I had a mixed reaction to Peter Sellars' collage-style libretto in Doctor Atomic. On first hearing I felt the first act worked much better than the second act. In contrast, I found the Girls of the Golden West libretto effective throughout. I loved Dame Shirley's language for the singers. It conveys such specific time, place, and individual personality, and therefore sounds like no other libretto I have ever heard or expect to ever hear again.
As with most new operas and other long-form works, I feel it will take repeated hearings to get the most out of the music. On first hearing the music seemed comparable in style and quality to other Adams operas. It seems a step back in musical complexity from some of the more recent orchestral pieces. That strikes me as a good thing for this visually, linguistically, and thematically complex language.
The opera received very mixed reviews in this premiere production, but even the reviews critical of the opera were full of praise for the singers. Julia Bullock was especially fabulous heading the cast as Dame Shirley, but there were no weak links anywhere. The interactions between Julia Bullock's Dame Shirley and Ryan McKinny's Clarence make me eagerly anticipate their upcoming appearance as Kitty and J. Robert Oppenheimer in next year's Santa Fe Opera production of Doctor Atomic.
Many of the negative reviews seem to criticize the type of opera being written rather than trying to meet the opera on its own terms. Joshua Kosman for instance thinks that "this collage technique fails to produce a workable dramatic framework." Mr. Sellars has forgotten more about theater than Mr. Kosman or I will ever know, and he is clearly not looking for a traditional dramatic framework here. I think it succeeds admirably in conveying great feeling with fine accumulation of detail, but I can see how others will disagree. My receptiveness to Sellars' vision in this opera probably due in part to being in tune with so much of his theatrical vision in other operas over the past 36 years.
What's Coming Up in 2018
January 6 marks the start of our chorus rehearsals for Fidelio at West Bay Opera, directed by Ragnar Conde and conducted by José Luis Moscovich. Performances are February 16, 18, 24, and 25 at the Lucie Stern Theatre in Palo Alto. The 62nd season will conclude with Carmen in May 2018. As an audience member, I am particularly looking forward to Candide at San Francisco Symphony, the Ring cycle at San Francisco Opera, and Doctor Atomic and Candide at Santa Fe Opera.
Have a happy, musical 2018!
Chess photo by Barbara Heninger. Norma photo by Otak Jump.