West By Opera's production of Donizetti's L'elisir d'amore (The Elixir of Love) opened on Valentine's Day and closed last Sunday. Four sold-out houses and many local critics enjoyed themselves immensely, but perhaps not quite as much as the cast and crew of this production.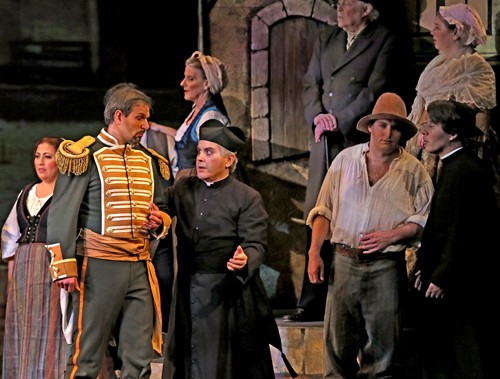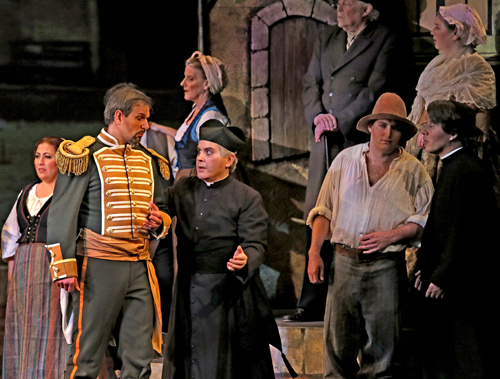 That's me in black at the center of the photo during my big moment in the opera. During the Act I Finale, sergeant Belcore gets very irritated at his rival Nemorino's reaction to his plans to marry Adina. Belcore is coming over to pulverize Nemorino into dust, but the village priest intervenes, breaking up the fight and then counseling Belcore. Sometimes I told Belcore about how love and military discipline will let him take the higher path when confronted with the crazy Nemorino. Other times I just reminded him that you can't kill the tenor at the end of Act I when we have all of Act II – including Una furtiva lagrima – left to go.
Of course there's nothing in the L'elisir d'amore libretto about a village priest. But L'elisir takes place in a rural Italian community, and director David Cox populated it with all sorts of specific people: priests, bakers, butchers, winemakers, farmworkers, rich folks, and more. West Bay Opera hires a lot of directors who aim for detailed work out of the chorus, and having seen many productions from the audience I know that it really pays off. The stage is so much more alive in chorus scenes that way.
It was an easy choice to join the L'elisir d'amore chorus with such a production dream team. David Cox is a brilliant comic actor, opera singer, and opera director. He directed our Turandot 3 years ago and I'd obviously learn a lot and have a lot of fun working with him. Chorus director Bruce Olstad has been instrumental in raising the vocal standards of the West Bay Opera chorus to a new level of beauty. Maestro José Luis Moscovich does double duty as music director and general director, ensuring continuity with a consistent opera aesthetic that I find very congenial: focusing on the intimate stories of these characters, even in huge operas like Turandot and Aida. This is the type of thing that a small house like West Bay can do with much greater intimacy than any large house. And I knew I could count on costume designer Callie Floor to make the whole cast look great even with the restrictions of a small budget.
When you have all these great people you attract a lot of talent, in the principals, the chorus, the orchestra, and the crew. My wife JoAnn and I have sung in many West Bay Opera productions over the years. We both agreed that, top to bottom, this was the finest chorus we have sung with here. Our cast was headed by Maria Brea as Adina, Igor Vieira as Dulcamara, and Chester Pidduck as Nemorino. We're making art with lots of friends; people we've sung and performed with for years, as well as many new friends we sang with for the first time. To make such fine music and drama with a great group of friends is a total delight.
Next up at West Bay Opera is Mozart's Die Zauberflöte. Our Belcore and Giannetta will be back, as Krassen Karagiozov sings Papageno and Molly Mahoney sings the Second Lady. Kirk Eichelberger, bass superstar of many West Bay Opera productions, will return as Sarastro. Michael Desnoyers, our Pang in Turandot, will be back as Monostasos. They will be joined by many other new and old friends in both the principals and chorus. I can't wait!
Photo by Otak Jump, cropped by Michael Good.