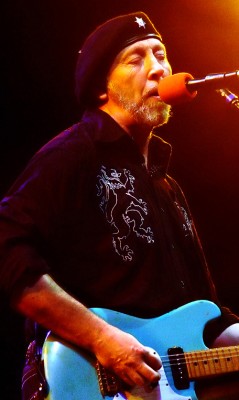 I just spent a very happy musical weekend at Villa Montalvo. Richard Thompson came to town for a 3-night engagement. Friday and Saturday nights were all-request shows, and Sunday night was a theme show on "Worksongs, Ballads and Rallying Cries: Contemporary and historical songs about the working man and woman, social injustice, and political unrest."
Richard Thompson is always a riveting performer, either as a soloist or with his band. He is a brilliant songwriter, a wonderfully expressive singer, and an amazing guitarist. Each of these shows highlighted his talents as both a performing songwriter and as a musical interpreter.
At the all-request shows, the audience submitted requests on slips of paper that Richard pulled out of a bucket during the show. He drew several at a time to pace things, avoiding problems like multiple ballads in a row. An assistant was in the stage right wings to grab lyrics off of Richard's web site or other net sites as needed. Some requests were skipped if he didn't remember the music or didn't want to do the song. The editing came in handy with the back-to-back shows, where only 4 songs were duplicated, including classics like 1952 Vincent Black Lightning and Dimming of the Day.
Some Friday highlights included performances of A Blind Step Away from Live, Love, Larf & Loaf, plus the unreleased songs The Hots For The Smarts and I Agree With Pat Metheny. My request, Guns Are The Tongues, also got played, as did a couple of Jimi Hendrix songs! This night was a great introductory show as it had a lot of the most popular songs, opening with 1952 Vincent Black Lightning and Beeswing back to back, and closing with Shoot Out The Lights.
Saturday's show had a larger percentage of less-obvious requests, including covers like Blue Christmas, Someone To Watch Over Me, and Substitute, along with less frequently played Thompson treasures like God Loves A Drunk. The show closed with a blistering rendition of Dad's Gonna Kill Me.
That song made a great segue into Sunday night's program of topical songs through the years. As I expected, songs from Richard and Danny Thompson's Industry album played a large role. When else are we going to hear four songs from that album in one show? These included Lotteryland, Last Shift, Big Chimney, and Sweetheart's On The Barricade.
Several earlier English songs were also included, including Cutty Wren, sung on the tune that I know as Green Bushes. There were lots of interesting covers, including songs by Merle Haggard (Working Man's Blues) Green Day (Minority), Phil Ochs (I Ain't Marching Anymore), Bob Marley (Get Up, Stand Up), Eric von Schmidt (Joshua Gone Barbados), Edwin Starr (War), and closing with a ferocious version of Midnight Oil's Beds Are Burning. George Galt added soulful harmonica to several of the songs on Sunday, as well as to some of the encore numbers on Saturday night.
This was my first time at Montalvo's Carriage House Theatre, but it won't be the last! It's a great place to see a show: a 300-seat theater with comfortable seating and excellent sound. I was in rows B, G, and N on the three nights, and the sound from rows G and N the last two nights was about as perfect as it gets. I get jealous of my friend Tom Spine's frequent reviews of shows at his local Tupelo Music Hall (just checked – they have both Vance Gilbert and Don White coming up in a couple of weeks). We don't have any place near us like that in terms of frequent bookings, but the Carriage House sure is a great place for the gigs they do book.
Photo by Anthony Pepitone via Wikimedia Commons.