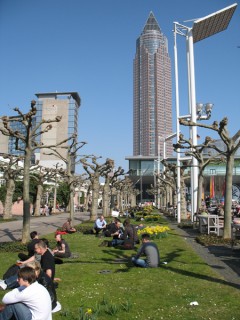 Musikmesse was held earlier this month in Frankfurt. This is the big European music instruments show, similar to NAMM in Anaheim for the USA. It has been three years since I last attended Musikmesse, so this was a great chance to catch up with customers, colleagues, business partners, and friends in Europe.
Hall 5 hosted the music software companies, including the music notation software products. Everyone was there: not just the USA and UK products like Finale, Sibelius, and Notion, but significant German and Swiss software like PriMus and MIDI-Connections. The capella software company was showing off their notation products, including the new capella-scan 7, in the quieter confines of Hall 3.
As you can see from the photos, we had gorgeous weather in Frankfurt this year. It was sunny and warm for the whole show; very similar weather to what I was missing in California that week, maybe even better. This is great at shows like Musikmesse and NAMM because it's very difficult to talk in the loud show floors. When you can meet outside as well as inside to talk, it makes the fair much more pleasant.
As an example, here's a photo that Thomas Bonte took of a meeting I had with people from the MuseScore and Wikifonia teams. From left to right that's Benoit Catteau, Nicolas Froment, me, and Thomas Bonte: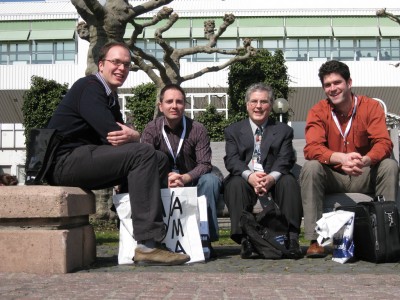 When it comes to what is exhibited at the show, there are a couple of big differences between Musikmesse and NAMM, both of which are found in Hall 3. Most importantly for Recordare, Musikmesse draws many more classical music publishers. I got to meet with several of the more forward-thinking publishers to discuss some of the new MusicXML-based technologies we are working on related to digital sheet music.
The other big difference – and one that makes for a better photo – is the accordion selection. Aisles of accordion manufacturers, in big booths, with excellent performers: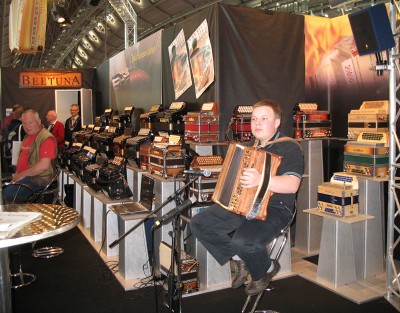 I completed my meetings by Saturday morning, so during the rest of the day I finally got the chance to see Frankfurt beyond the Messe, the Hauptbahnhof, and the airport. The Städel Museum was especially striking. Of particular interest to me were the beautiful paintings by several German artists, such as Hans Thoma, whose work I did not know before.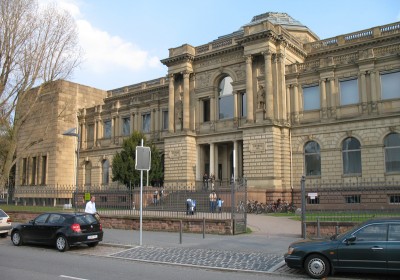 There was also a "Carvaggio in Holland" exhibit showing paintings by both Carvaggio and several Dutch painters (Hendrick Terbrugghen, Gerard van Honthorst, and Dirck van Baburen) who were very influenced by Carvaggio.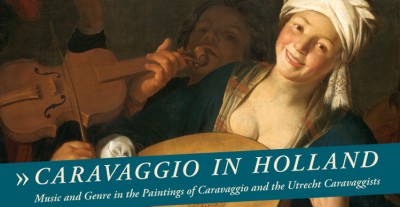 Despite the fact that the subject matter in this exhibit was largely paintings of musicians, there was no cross-promotion that I saw between the Städel and Musikmesse. As Amanda Ameer would point out, a missed opportunity, but still a fine exhibit.
After the museum, I relaxed along the river on this beautiful spring day: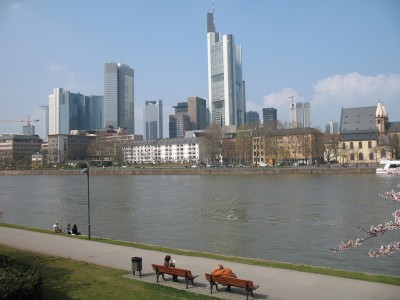 And of course, there were the Frankfurter sausages: