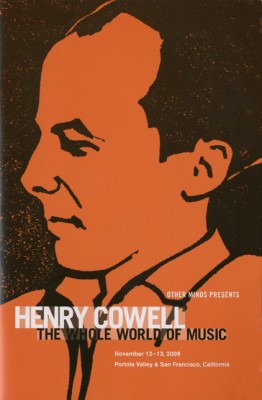 I finally had a chance to attend an Other Minds concert: the first of a two-concert series devoted to the American composer Henry Cowell. Other Minds is one of the Bay Area's great new music organizations, and for this concert they came down to the Peninsula. Henry Cowell was born and raised in Menlo Park, just a few miles from the Portola Valley concert venue.
The program covered chamber music from all eras of Cowell's career: from the famous early piano pieces like The Tides of Manaunaun from 1912, through wonderful 1930s chamber works (Toccanta and the String Quartet No. 4 "United"), on to some late songs from the 1950s (Thou Art the Tree of Life and Spring Pools).
Sarah Cahill performed a set of six of Cowell's solo piano pieces. This is Cowell's best-known repertoire, and I knew many of these pieces from recordings, but I never had heard them live. What a treat to hear them in concert: the sensuality of the sound and the intricacy of the performance comes across so much better in a live performance.
As a singer, the absolute highlight of the program for me was the set of eight Cowell songs, superbly sung by mezzo-soprano Wendy Hillhouse with Josephine Gandolfi on piano. The set covered 5 decades worth of songs in a beautifully arranged sequence. It was great to hear how Ms. Hillhouse went to the Library of Congress with an early version of Finale loaded onto her PowerBook to transcribe 50 of Cowell's 200+ songs from the manuscripts. She had been entranced by the music after singing some of the published songs at a Cabrillo Festival concert honoring Lou Harrison, but only a dozen or so of Cowell's songs have been published. Harrison put her in touch with Cowell's musical executor to access the unpublished songs during a year when she was singing with the opera in Washington, D.C.
The whole program was filled with great music in fine performances. Cowell fans in San Francisco can hear the second concert of the series on Friday at the Presidio Chapel. Thanks to Charles Amirkhanian and Other Minds for bringing Cowell's music back home to the Peninsula!