Thanksgiving week was a slice of contemporary big band heaven in Manhattan. On Wednesday night, Darcy James Argue's Secret Society performed two sets at Iridium. These photos are from the first set: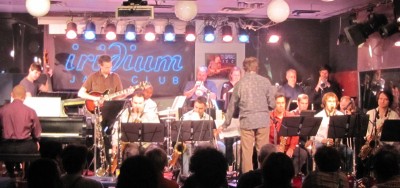 It's interesting how you can go your whole life without seeing a bucket-muted bass trombone, and then you can see it twice in three days. Here's the Secret Society version, with Jennifer Wharton on bass trombone: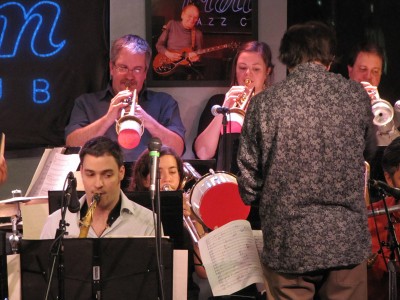 Darcy gave interesting introductions to some of the tunes: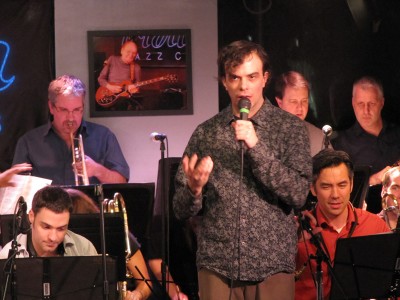 The second set was even better than the first, highlighted by a great performance of Ferromagnetic. But our seats didn't work as well for photos.
On Friday night, we saw the Maria Schneider Orchestra play their second set at the Jazz Standard. We heard the band when they played in San Francisco a few years ago, but it's so much better to hear them in a small club like this than in someplace like Herbst Theatre. The set included a new commissioned piece, tentatively called "The Bean Fields."
Maria was conducting in between a couple of the front tables, so we were really up close and personal, as you can see from this after-set photo: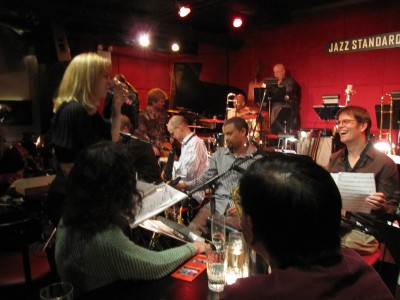 Thanks so much to Darcy for mentioning the Kandinsky retrospective at the Guggenheim in his Secret Society newsletter. We went to see it on Friday and it was as wonderful as advertised. My introduction to Kandinsky's art was a bit different than most people's: one of his paintings provided the cover art for the MIT Symphony Orchestra's first LP on Turnabout. This LP was recorded my freshman year, so I'm playing third trumpet on both selections. Both the Piston and Copland recordings are still available on CD in different packagings.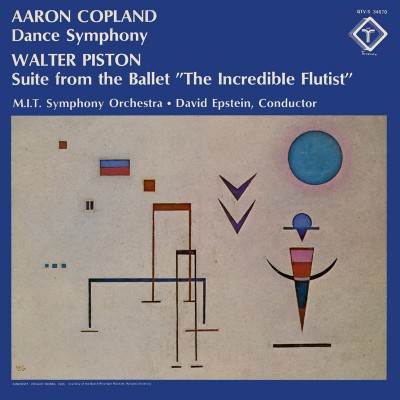 The Guggenheim Museum looked as lovely as ever in the cloudy late November light: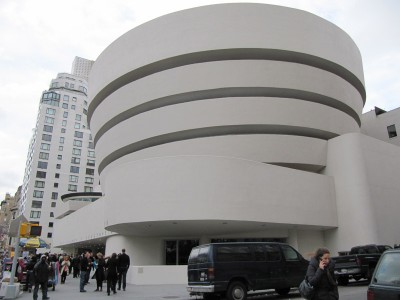 Argue and Schneider write wonderfully well for big band, so it was a real thrill to hear them in clubs within a few days of each other. I'm looking forward to more great music from these bands and bandleaders in the future.