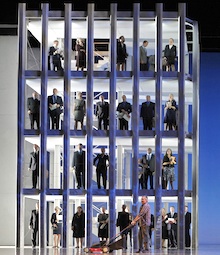 I attended Sunday's performance of the new Christopher Theofanidis opera Heart of a Soldier in its premiere run at San Francisco Opera, and found it to be a very moving and powerful piece. The cast was excellent, especially the three leads: Thomas Hampson as Rick Rescorla, William Burden as Dan Hill, and Melody Moore as Susan Rescorla. The score was nicely lyrical and singable, not the nearly-all-recitative music that burdens a lot of contemporary opera. I recommend it to anyone interested in new operatic works, or who are interested in operatic responses to dramatic events like 9/11.
The opera is controversial for two obvious reasons – the subject matter and the issue of operatic quality. Nearly any opera premiere that's interesting will be controversial for the latter reason. However, when you make an opera that ends with the 9/11 attack on the World Trade Center, you're going to have more controversy than usual. I wanted to weigh in on both aspects with some initial thoughts.
I think some people misunderstand when they hear people involved with the production say that it's not about 9/11. The 9/11 attack only happens in the last scene of the opera. The opera itself is a character study of Rick Rescorla viewed through his relationships with Dan Hill and Susan Rescorla. I found this to be a fascinating and deeply thought-provoking portrayal of someone who couldn't be much more different from me. What was it that drew Rescorla and Hill to the military life? What kept them there or drove them away? What did they take from their military experience into civilian life? This culminates in 9/11, but as the title says, the focus is on what Rescorla believes is the heart of a soldier. It is not at all about what 9/11 meant to the USA and the world, though of course your perspective on that will affect your response to the opera.
Operas usually don't live and die on their subject matter or their libretto (Donna Di Novelli is the librettist here). It's the music that matters most. Naturally it's hard to assimilate a new opera in one performance. My initial impression is that the music is very strong and nicely written for voices. My main criticism is that it seems a bit short of breath at times; there are arias and other moments that could be extended or repeated more. What Puccini did in terms of repetition to make his melodies memorable in operas like Madama Butterfly, without being too obvious about it, might be a helpful model to follow. Jeff Dunn makes much the same point in his San Francisco Classical Voice review.
Joshua Kosman's review in the San Francisco Chronicle faulted the dramatic structure while generally praising the music and many of the individual elements in the opera. I disagree with his negative assessment. Character studies that lead to a climactic ending can pack a powerful emotional response even when there is minimal conflict between the characters on stage. I was indeed not convinced by Act I's dramatic structure at intermission, but it made great sense when the opera was complete. This was a great example of Keith Jarrett's dictum that "Until the whole appears, the parts should not be criticized."
Other critics have accused the opera of "emotional manipulation" as if that were a bad thing. Music's ability to manipulate emotions is what makes it such a prominent part of human existence. Scientists like David Huron and Daniel Levitin have helped explain why. Are you skeptical about the role that music plays in Rescorla's professional life in this opera? It's practically a dramatization of portions of Chapter 2 in Levitin's The World in Six Songs. Good opera increases emotional communication even more with its combination of music and theater. The fact that I was profoundly moved at the end of the opera is a good thing. The ending was exceedingly well staged by director Francesca Zambello, falling neither into the trap of vague understatement that I thought plagued the Doctor Atomic premiere, nor the more obvious trap of vulgar overstatement.
Heart of a Soldier is not for everybody. I don't know if the opera will survive in the repertoire or not. If you love opera and view it as a living, breathing, relevant art form in today's world, and you're in the San Francisco Bay area, please go see it and judge for yourself. There are three more performances on September 24, 27, and 30.