As my summer break from music rehearsals comes to an end, I wanted to be sure to look back at our production of Mozart's Die Zauberflöte (The Magic Flute) at West Bay Opera. This was my first time singing a fully-staged Mozart opera at West Bay and we had a wonderful cast for it. In the picture you can see Kirk Eichelberger as Sarastro while the men's chorus sings backup to his aria.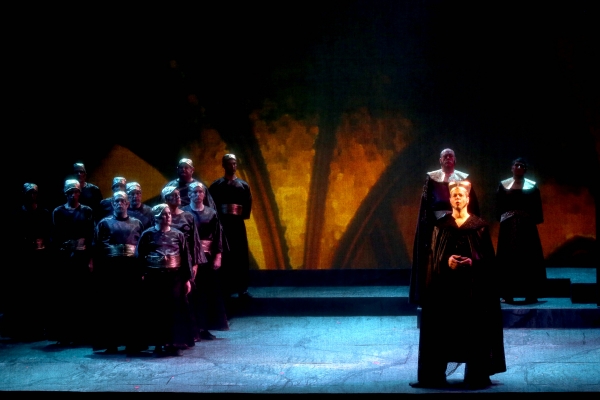 This aria came just after I had my line in my speaking role debut at West Bay Opera. Granted, the Third Priest has just two words – "Ist wohltätig?" – but that's two more words than I've had in my previous dozen West Bay Opera productions put together. There weren't any auditions for this. As you can see, I'm in the front of the triangle of priests, so with this blocking I was the natural choice to speak these words from the chorus. Sometimes being the shortest guy does pay off!
The most amazing experience for me was to work again with Eugene Brancoveanu as Papageno, who took over the role when Krassen Karagiozov had to bow out of the production. In his rave review in San Francisco Classical Voice, Jason Victor Serinus described how Eugene's "every look and movement is energized with intention." This was so true. As Third Priest, I got to have a couple of entrance bits with him. It was a master class in comedy acting to see how he would add one little thing to another, never forcing a laugh, but having the laughs come from the actions of a fully realized character. I had performed with Eugene once before in Fremont Opera's semi-staged Barber of Seville, but this was more up-close-and-personal and so much fun. Here we are recreating one of the entrance bits backstage. Onstage Papageno was blindfolded, flailing his arms in my face while trying to figure out where he was once we stopped walking.
Next week I start rehearsals for a real, credited speaking role. I have been cast as Calynx in Lyric Theatre of San Jose's upcoming production of Gilbert and Sullivan's Utopia, Limited. Calynx's lines are all in one scene at the start of the show, but he does have one of the funniest lines. And there are lots more words than the Third Priest! This will be my first time performing with Lyric Theatre since I played trumpet for one of their prior Utopia productions 35 years ago.
Utopia is infrequently done in part because it has a huge cast (16 roles), and because it became unpopular when D'Oyly Carte didn't revive it after its debut run. That was largely for cost reasons at first, but then the lack of production history fed on itself. I've always loved the show: its twin targets of imperialism and capitalism are topics that have always been ripe for satire. Performances will be October 4, 5, 9, 10, 11, and 12 at the Montgomery Theater in downtown San Jose. Lyric Theatre has done very well by the show over the years, but it still comes around only about once a decade. Don't miss this chance to see it.
Production photo by Otak Jump. Backstage photo by Mark Baushke.